ART FOR LIFE, WARM, HAPPY, LOVING ART.
My ART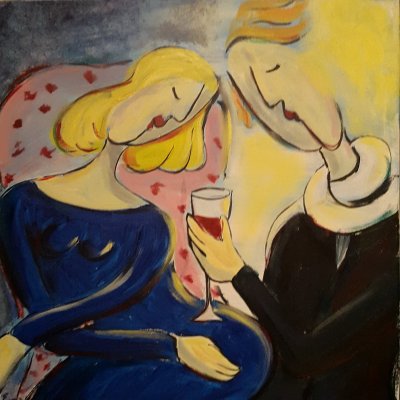 THE ART STILE: REVIEWS
Proximity is the word you want to us to characterize Eva-Lena Martinson´s paintings. Tenderness, prudence is probably better. Sometimes erotic scenes with bodies encased 

in defined contours. One, two or more on the canvas, in sensual pastos oil, very light and in a design reminiscent of Picasso, Erland Cullberg and Bengt Lindström, yet is Eva-Lena Martinson´s very own.
Lars-Erik Selin, Svenska Dagbladet, Stockholm
The own design language also appears in her House warming Art, which is a joyful exponent of her creative ability. The warm feelings are there, as in all her art, but also more humourous tones. It was prevsiously also the expressions of her glass collections, which for several years was a huge succes in Sweden and internationally.