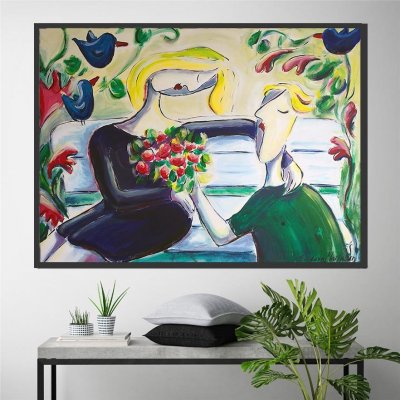 Eva-Lena Martinson
Internationell konstnär, bor i halländska Åsa. Började som glasformgivare för Skrufs och Bergdala glasbruk. Hennes glas såldes i stora delar av världen och representerade Sverige vid Ostindienfararen, skeppet Götheborgs jubileumsresa till Kanton i Kina. Idag efterfrågas hennes glas i Japan och USA för nyproduktion.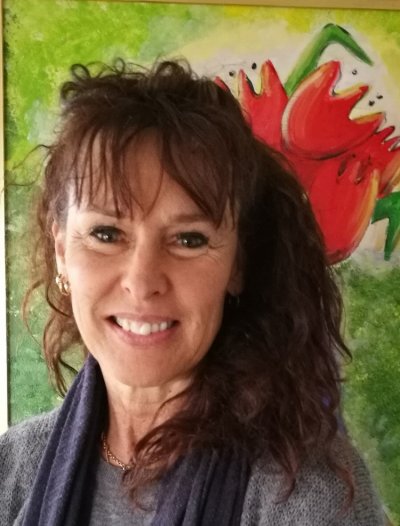 Som målande konstnär har Eva-Lena Martinson vunnit en växande framgång. Vid utställningar i Stockholm har konstkritikern Sven-Erik Selin, Svenska Dagbladet skrivit:
"Närhet är der ord man vill använda för att karaktärisera Eva-Lena Martinsons måleri. Ömhet, varsamhet är nog bättre. I sensuell pastosa färger med mycket ljus uti och i ett utförande som ibland för tankarna till Picasso, Erland Cullberg och Bengt Lindström, men som är Eva-Lena Martinsons alldeles eget."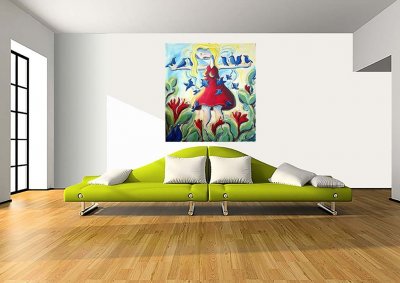 Och vid följande utställning:
"Glädjande nytt hos Eva-Lena Martinson är en starkare kolorit med varierad palett. Hennes bildvärld är densamma, svävande frodiga figurer eller änglalika gestalter som fyller upp bildytan – ett kort ögonblick kommer man att tänka på Bengt Lindström, men som hos Eva-Lena Martinson är så mycket mer än hos denne i fråga om poesi och flykt."
Kommentar från England:
"Her work mediates passionate outbursts and the awakening of powerful instincts, brimming sensitivity and lowing warmth. Simultaneously the feeling for idealism remains in the will to express a richer and versatile spirituality, to liberate art from the rational and the formal. Eva-Lena finds new pictoral roads to travel, assisted by humour, love and imagination. We can conclude by saying that Eva-Lena Martinson is continuing her highly individual chosen path towards increasingly multifaceted eventful, brilliant paintings." 
D. Stewart 
BC International Ltd 
Eva-Lena har haft flera utställningar i Sverige, Finland, Tyskland och Kina.
"That will be perfect! I need your paintings in Nordic style on my exhibition. I love to introduce your wonderful work to Chinese people. The art is very beautiful, full of Nordic identity."
Victoria Chou
Beijing, China