ART FOR LIFE, WARM, HAPPY, LOVING ART.
My ART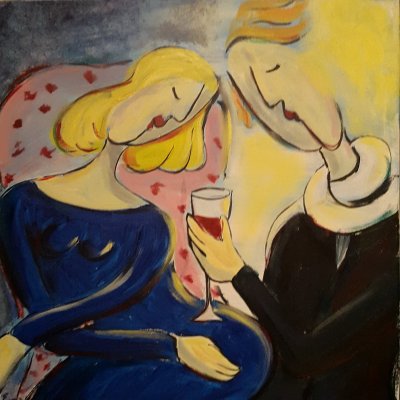 THE ART STILE: REVIEWS
Proximity is the word you want to us to characterize Eva-Lena Martinson´s paintings. Tenderness, prudence is probably better. Sometimes erotic scenes with bodies encased 

in defined contours. One, two or more on the canvas, in sensual pastos oil, very light and in a design reminiscent of Picasso, Erland Cullberg and Bengt Lindström, yet is Eva-Lena Martinson´s very own.
Lars-Erik Selin, Svenska Dagbladet, Stockholm
Stewart, England:
Her work mediates passionate outburst and awakening of powerful instincts, brimming sensitivity and lowing warmth. Simultaneously the feeling for idealism in the will to express a richer and vertile spirituality, to liberate art from the rational and the formal. Eva-Lena finds new pictorial roads to travel, assisted by humour, love and imagination. We can conclude by saying that Eva-Lena Martinson is continuing here highly individual chosen path towards increasingly multifaceted eventful, brilliant paintings."
 Eva-Lena: Art is communication, a conversation without words between you and me. Where I want to bring you an experience and you, by seeing and receiving, hopefully will enjoy the message. Each painting is for me an opportunity to reach your senses and perhaps  making you feel what  I want to give to you.
 Art for me is to reflect what is good in life and how we consciously can choose.  I want to mediate  joy, warmth, humour and all other positive sides of life. I believe that happy paintings on the walls brings happy feelings in the minds
Exhibitions and being represented in Sweden, Finland, France, USA, China and more.